Yia Yia's Nouna's Melomakarona Cookies (Melomacarona)
This page is in progress!
In the Star Trek sim , the USS Eagle, we play a variety of characters from different cultures and different worlds. A sim is an online role playing game. Ours is played in a chatroom. We type in text and play characters in a story.

This is a page for the Captain's family and culture. It is written as if he posted it. He is half Chinese and half Greek and enjoys cooking, when he's not out saving the galaxy. If you would like information on our Star Trek RPG just email me or check out the rest of this web page with the links below. The recipe comes from his father's side of his family. For those of you don't know what a "nouna" is, she is a godmother. A "Yia Yia" is a grandmother.

Melomakarona Cookies (Melomacarona)
from the Kematsopoulos Family
Makes five dozen


Ingredients

1 cup softened butter
1 cup salad oil
Several oranges enough for: 0.5 cup fresh orange juice
1 tablespoon fresh orange juice
Grated peel of one orange
2 eggs
6 Tablespoons sugar
0.25 teaspoon baking soda
3 teaspoons baking powder
6 to 6.5 cups sifted flour
0.5 cup finely chopped walnuts
0.25 cinnamon
1/8 nutmeg
1/8 cloves
2 cups honey
0.5 cups water

Prep:

1. Squeeze juice.
2, Grate orange peel.
3. Sift flour.
4. Chop walnuts.

Directions:

1. Beat butter with electric mixer until light and fluffy.
2. Add oil slowly and beat for ten minutes more.
3. Add sugar,0.5 cup orange juice and orange peel slowly.
4. Add one egg slowly and then the other.
5. Beat for five minutes more.
6. Combine 1 tablespoon orange juice and 0.25 teaspoon baking soda.
7. Add to butter mixture.
8. Slowly add some flour and baking powder to make a soft dough.
9. Remove from bowl and knead.
10. Add more flour until six cups have been added.
11. Knead more and add the remaining half cup of flour if needed.
12. Take a heaping teaspoon of dough and roll into an oval shape.
13. Put it on the cookie sheet.
14. Use a fork to press lines lengthwise into cookie.
15. Repeat as necessary.
16. Bake at 375 degrees Fahrenheit for 20-25 minutes.
17. Cool on wire rack.
18. While cookies are cooling carefully bring honey and water to boil and set aside.
19. Combine nuts, cinnamon and cloves and set aside.
20. Soak cookies in honey mixture.
21. Sprinkle with nut topping.






Please email me if you try it and let me know how it went. Efkhatheesto/ Thank you Enjoy!





Click here to visit the main page of our Star Trek sim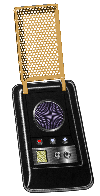 Please click here to contact us
OR
Join our Star Trek RPG!


"Feel at home no matter how many light years away from it you are!!"

Our Star Trek Sim's Recipes:

Greek Recipes: Country Salad (Horiatiki)
Greek Recipes: Egg Lemon Soup (Soupa Avgolemono)
Greek Recipes: Egg Lemon Lamb Soup (Arnaki Soupa Avgolemono)
Greek Recipes: Greek Shrimp in Wine Sauce (Garithes me Saltsa)
Greek Recipes: Christmas Spice Cookies (Melomakarona)
Greek Recipes: Meringue Cookies (Bezethes)
Greek Recipes: Butter Cookies (Kourabiethes)

Chinese Recipes
English Recipes
Norwegian Recipes
Romanian Recipes
Russian Recipes
List of Ethnic Recipes for our Star Trek Sim / Star Trek RPG