>
Klingon Dictionary for Klingon simming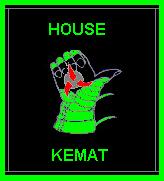 HOUSE OF KEMAT'S
USEFUL WORDS AND PHRASES FOR SIMMING
The Art of Swearing and the Craft of Insulting

MENU- IN PROGRESS

Lesser Insults
garbage - veQ
garbage scow - veQnuj

Comments for Inanimate Objects or Events
Coming Soon!



Greatest Insults
Coming Soon!



Insult Contest and Archive - There will be many categories. No profanity in English or other "real" languages is allowed. Words like "smeg" will be fine. Stay tuned for further details!

Check out these Klingon links!
Klingon House, tuq qimat (House of Kemat) Visit an honorable and ancient Klingon House

Klingon Sim Group Forming Check out a new Klingon RPG. Get in on the beginning!

Klingon Dictionary for Klingon RPG and Sim use
Arranged by topic for easy reference:
Battle Phrases -Updates in progress.
Billets, Ranks and Titles-Updates in progress
- In the planning phase.
Klingon Family and Related words - Just begun!!!
Klingon Food - Just begun!!!
Medical-Updates in progress.
Klingon Numbers and Related Terms - NEW!!!
Swearing - In the planning phase. You are here now.
Ship Terms - Includes an animated decloaking Vorcha class ship.Updates in progress
Weaponry - Images.Names.Updates in progress.


Klingon Buddy Icons - Animated disruptor firing and more!


Check out this non Klingon link!