The Tsiolokovsky Family's - Russian Tea Cookies or Russian Cannon Balls
This Russian recipe page is in progress!
In the Star Trek sim , the USS Eagle, we play a variety of characters from different cultures and different worlds. A sim is an online role playing game. Ours is played in a chatroom. We type in text and play characters in a story.


CDR Valentina Tsiolkovsky
This is a page for the Chief Engineer's family and culture. It is written as if she posted it. She is full blooded Russian and loathes cooking. Cooking for her is punching in some codes into the food processor or asking the Chef to make something for her when she is home sick. Of course, our head strong CENG won't admit it.
If you would like information on our Star Trek RPG just email me or check out the rest of this web page with the links below. The recipe comes from an information disk that her baba (grandmother) sent her.

Russian Cookies: Russian Cannon Balls
from the Tsiolkovsky/ Tereshokova Family Recipe Database



Ask your chef to do the following:

Ingredients

1 cup soft butter
0.5 cup sifted confectioners suger
1 teaspoon vanilla
2.25 cups sifted flour
0.25 teasp0oon salt
0.75 cups finely chopped nuts or walnuts

Directions:

1. Mix thoroughly butter, sugar and vanilla with electric mixer.
2. Gradually add sifted flour and salt.
3. Add nuts.
4. Chill dough several hours or overnight.
5. Roll dough into one inch balls and place 2 inches apart on ungreased baking pan.
6. Bake until set and not too brown for about ten to twelve minutes at 400 degrees Fahrenheit.
7. Remove from oven and let cool slightly.
8. While still warm, roll cookies in confectioners sugar.
9. Cool.
10. Roll again in confectioners sugar.



Please email me if you try it and let me know how it went. Spaceebo!/ Thank you Enjoy!





LINKS
Click here to visit the main page of our Star Trek sim
Visit Our Chief Engineer's Quarters
Read the Starfleet personnel file for CDR Tsiolkovsky
View Star Trek Sim logs for our CENG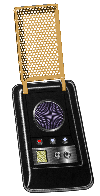 Please click here to contact us
OR
Join our Star Trek RPG!


CODING IN PROGRESS:
List of Recipes
Russian Recipes: Herring Salad
Russian Recipes: Blini Pancakes
Russian Recipes: Halupki: Cabbage Rolls
Russian Recipes: Chicken Stroganoff

Chinese Recipes from our Star Trek Sim CO's Family
English Recipes from our Star Trek Sim AMO's Family
Greek Recipes from our Star Trek Sim Captain's Family
Italian Recipes from our Star Trek Sim ASCI Officer
Norwegian Recipes from our Star Trek Sim CSEC's Family
Russian Recipes from our Star Trek Sim CENG's Family
Romanian Recipes from our Star Trek Sim ASCI's Family
Syrian Recipes from our Star Trek Sim AMO's Family

List of Ethnic Recipes for our Star Trek Sim / Star Trek RPG