Star Trek RPG



The USS Eaglet, NCC 008-013

RPG Mission Statement: FUN!
Introducing, the USS Eaglet, a children's Star Trek sim based on the Original Series Movie Era.

The USS Eaglet is an Oberth Class starship used in training cadets, midshipman and future simmers and scientists.

Learn to sim and some basic science used in science fiction online role playing games!!

See you at the other side of the galaxy!



Join us and have fun!

Please contact Nouri at NouriKemat@aol.com for more details.

The USS Eaglet is rated G and welcomes players ages 8-13. No experience is necessary. We teach everything needed to know to play. Parents are also welcomed and invited to sim along with their children.

The purpose of our Star Trek Sim RPG is to have fun, make friends and study science and practice writing.
Our Star Trek RPG meets in an AOL /AIM chatroom where we have our "live sim". If you are interested in more information or in joining, please click on the communicator below.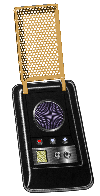 Click here to contact us
OR
To join our Star Trek Original Seres RPG (TOS)!

Please explore the rest of our Star Trek RPG web page, if you are looking for a game for older players:
Visit our Star Trek RPG main page