Star Trek Sim / RPG
USS Eagle, NCC 2185


(On loan from the Royal Navy ;o) Spoof on "Doctor Who" from non Star Trek Science Fiction)
Lieutenant Sullivan's Quarters


Starfleet Personnel File-COMING SOON!

Duty Logs
Stardate:200509.21

Personal Logs
Stardate:200601.05

Joint Logs
A Matter of Time, Part Five - NEW! ( with CO)

Lieutenant rank insignia pin

LT rank insignia and rating as worn on left sleeve for the Original Series movies- COMING SOON!

LCDR Lahrs Unstoffe Logs


Visit the main page of our Star Trek RPG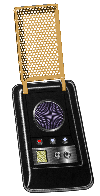 Click here to contact us
OR
Join our Star Trek Sim!