Dr. Isa's Lamb Shoulder - Lamb ala Isa
This page is in progress
In the Star Trek sim , the USS Eagle, we play a variety of characters from different cultures and different worlds. A sim is an online role playing game. Ours is played in a chatroom. We type in text and play characters in a story.

This is a page for Dr. Kamran Shah Isa's family and culture. He is half Syrian and half Afghani. If you would like information on our Star Trek RPG just email me or check out the rest of this web page with the links below. The recipe comes from Dr. Isa himself.
"Feel at home no matter how many light years away from it you are!!"

Lamb ala Isa - Roast Lamb Shoulder



Ingredients:

2 - 2½ lb. Lamb shoulder
Salt
Pepper
Garlic or garlic powder
Rosemary
1 lb. Asparagus
1 - 1½ lb. Red potatoes
butter (or margarine)
parsley flakes

Directions:

1.Preheat oven to 350°. 2.If using garlic, take 3 to 5 cloves, make slits in lamb and insert.
3.Rub lamb with salt, pepper and rosemary (otherwise rub lamb with spices including garlic powder as a shortcut).
4.Place lamb in 12" baking dish and add a few inches of water, then cover with aluminum foil. Place in oven and time from 1 to 1½ hours according to weight.
5.Cut potatoes up and place in pot and cover with water.
6.Snap bottom ends off asparagus (these can be reserved in the refrigerator so as to make a soup later on), place in pot and cover with water.
7.When it is 30 minutes until the lamb is done, start potatoes cooking and when it is between 15 and 10 minutes until lamb is done, turn on asparagus. (Don't overcook it!)
8.Drain both asparagus and potatoes in colander and return to pots and add slices of butter or margarine (depending on whether you're on a cardiac diet or not) and let it melt.
9.Add a handful of parsley flakes to the potatoes; take a wire whisk and mash thoroughly.
10.Carve lamb, serve dinner and enjoy.





Please email me if you try it and let me know how it went. Shucran!/Thank you!
Enjoy!!





Click here to visit the main page of our Star Trek sim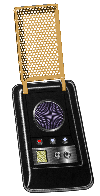 Please click here to contact us
OR
Join our Star Trek RPG!



Our Star Trek Sim's Recipes:

Chinese Recipes
English Recipes
Greek Recipes
Italian Recipes
Norwegian Recipes
Romanian Recipes
Russian Recipes
Syrian Recipes

List of Ethnic Recipes for our Star Trek Sim / Star Trek RPG