Star Trek Sim / Star Trek RPG
USS Eagle, NCC 2185

STARFLEET PERSONNEL FILE -- Lieutenant Junior Grade Yajiru Gijutsuka

Rank: LTjg
Assignment:Assistant Engineering Officer
Full Name: Yajiru Gijutsuka
Nickname (If any): None.
Date of Birth: May 4, 2269
Place of Birth: Nagasaki, Japan.
Parents: Mother, Misato and father, Robert.
Race: Japanese/American.
Sex: Male.
Marital Status: Single.
Hair Color: Black.
Eye Color: Dark brown.
Height: Five feet, four inches.
Weight:135 pounds.
Health: Generally good health.
Education: Four-year college education.
Languages: English, Japanese.
Service Awards: None.
Starfleet Career Summary: Graduated Starfleet There is nothing remarkable about his career so far, as Gijutsuka graduated rather recently.
History: Gijutsuka was born in Nagasaki to Yajiru Misato and Yajiru Robert.
(In this case, the man took on the woman's surname due to her higher social standing, as per Japanese custom.) Even though he is half American, Gijutsuka always took more of a liking to Japanese culture, hence why he insists on having his surname before his forename. He moved to America at age seven, and lost his father at age fourteen. After going through college, Gijutsuka became enamored with the idea of being on a starship, and put himself through Starfleet to pursue his dream.
Click here to go to the main page of our Star Trek RPG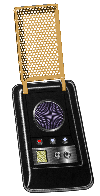 Click here to contact us
OR
Join our Star Trek Sim based on the Original Series Movies!