Star Trek Sim / Star Trek RPG



USS Eagle, NCC 2185

STARFLEET PERSONNEL FILE -- Ensign Xern Cochrane
Rank: Ensign (ENS)
Assignment: Assistant Science Officer
Full Name: Xern Cochrane
Nickname (If any):
Date of Birth: DEC 20 2263
Place of Birth: Earth PX AZ Maricopa County Hospital
Parents: Ross Cochrane (mother) Unknown (Father)
Races: Vulcan and Human
Sex: Male
Marital Status: None
Hair Color: Brown
Eye Color: Brown
Height: 6 feet 5 inches
Weight: 123 pounds
Health: Good
Education: Engineering doctorate
Languages: English
Service Awards: None
Starfleet Career Summary: Just beginning
History: Descended from Johnny Cochrane which descended
from Zefram Cochrane. Father died when born.
Visit the main page of our Star Trek sim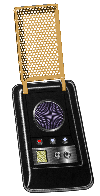 To contact us
OR
Join our Star Trek Sim based on the Original Series Movies!