Our Star Trek Sim/RPG 's: Fast Brief-IN PROGRESS

STAR TREK THE ORIGINAL SERIES MOVIE ERA


VS
STAR TREK THE NEXT GENERATION

A Comparison of TOS Vs TNG: Time Periods, Billets and Tech



This is a "fast brief" to help people who are more familiar with TNG than TOS make the transition to Star Trek the original series simming.

Our time period is the TOS Movie era, 2293 before Praxis explodes. It is a transitional time between TOS from the television and TNG. As such some things are not defined by the movies or series while some are very defined. Here is a short list of some of the things we know for sure and of what the Eagle does use.



Billets:
Billets used: CO, XO, HELM, COMM, SCI, SEC, ENG, ASCI, ASEC, AENG
Billets not used: OPS, TAC



Technologies:
Tech used: duotronic enhancers, communicators
Tech not used: replicators, isolinear rods, isolinear chips, commbadges for communication, holodecks



Alien Races:
Races used: Federation Charter members and others (I permit Betazoid from the TNG references that they were charter members but many TOS COs do not.)
Races not used: Ferengi, Q, Founders, Vorta, etc.



Warp:
Warp factors are measured on a different scale in TOS than for TNG



Additional Notes:
In general, we do not use the information from the new show "Enterprise". We may use information from the books about the original series and the associated RPG books but that is a case by case decision.

There are more differences between TOS and TNG than are listed here. If you have further questions, please don't hesitate to ask.

Star Trek Humor: Ten Ways that TOS is better than TNG

Visit the main page of our Star Trek sim based on the Original Series movies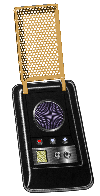 Please click here to contact us
OR
Join our Star Trek Sim!