Star Trek Sim Star Trek RPG
USS Eagle, NCC 2185

STARFLEET PERSONNEL FILE -- Ensign Jonathan Tiberian II
Rank: Ensign (ENS)
Assignment: Communications Officer (COMM)
Full Name: Jonathan Eric Tiberian II
Nickname (If any): Johnny
Date of Birth:4 Nov 2273
Place of Birth: New York, New York, Earth
Parents: Jonathan Tiberian I, Mary Tiberian
Race: Human
Sex: Male
Marital Status: Single
Hair Color: Blonde
Eye Color: Blue
Height:6' 3 1/2"
Weight: 145 lbs
Health: Perfect for humans
Education: Graduate of Starfleet academy, communications being his strong point.
Languages: English
Service Awards: N/A
Starfleet Career Summary: Just graduated at the time of filling this out.
History: He grew up tough, raised in the bad parts of New York City. He decided he did not need a life of crime when he was 12, so he enrolled at Starfleet. He is now on his way to becoming a great COMM officer.
Visit the main page of our Star Trek RPG based on the Original Series Movies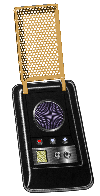 Click here to contact us
OR
Join our Star Trek Sim!