Star Trek Sim / Star Trek RPG
USS Eagle, NCC 2185

STARFLEET PERSONNEL FILE -- Cadet Tetramin
Rank: Cadet (CDT)
Assignment: Assistant Science Officer
Full Name:TETRAMIN
Nickname (If any):
Date of Birth: JUNE 27 2269
Place of Birth: VULCAN
Parents: Tplek, Soonan
Race: VULCAN
Sex: MALE
Marital Status: SINGLE
Hair Color: BROWN
Eye Color: HAZEL
Height: 5'7
Weight: 167
Health: none
Education: VULCAN SCIENCES, STARFLEET ACADEMY
Languages: English, Vulcan
History: Underwent Vulcan disciplinary, lived on Vulcan most of his life till 2290
NOTE TO "TETRAMIN MUN": You are missed. We look forward to you coming back from leave and back online.Hurry back!
Visit the main page of our Star Trek sim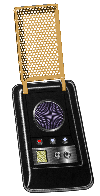 Click here to contact us
OR
Join our Star Trek Sim!