Star Trek Sim /Star Trek RPG
The USS Eagle, NCC 2185
SUMMARY OF PREVIOUS RPG PLOTINE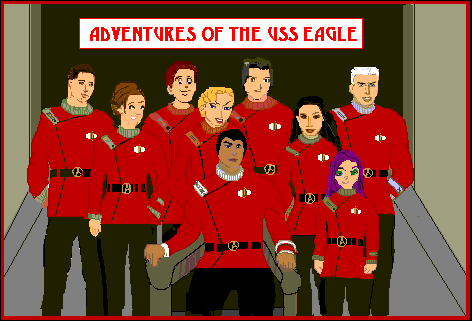 Visit the main page of our Star Trek sim.




In our last episodes..


In Sickbay:

The intruders consolidated their nefarious hold on the Eagle. Decks began reporting in that had been secured by the intruders. We learned during this time that the intruders are from the future and after the spy. They do not want the spy to reach the rendezvous and be debriefed. We do not know yet what information the spy has that is so valuable or even for sure if the spy is onboard the Eagle.

Perhaps this explains why they were looking so hard for the Captain's Yeoman? Perhaps she knows where the Captain hid or sent the spy?

We also learned that the intruders believe the Brazil was destroyed and that they personally destroyed the Valkyrie.

Elsewhere:

Ensign Hanson and Ensign Moonshadows were captured by the intruders. Ensign Hanson was badly injured and taken to Sickbay.

The sim ended with these lines as Dr. Isa and Nurse Kenylworth did emergency surgery to save the enigmatic Ensign's life:

Dr. Isa::looks inside:: Man but that kid is a mess. ::looks up:: Three units of whole blood, O negative.

Dr. Kenylworth ::low whistle:: That bad ... ::turns and fetches the blood from cabinet:: All right. Unit one started. ::inserts cartridge::

Dr. Isa ::proceeding with work:: Yeah ... and it may get worse. ::pauses, resumes work:: He must have been in a bad fight, Steven. He didn't go down easily.

ACTION: ENSIGN HANSON DISAPPEARS. NO SOUND NO LIGHTS. JUST VANISHES.. AND..

END SIM



In our next episode...

Where did Ensign Hanson go?
How will Dr. Isa handle the "loss" of his patient?
What will happen if the intruders notice the Ensign is missing?
Who is the missing Ensign and why does he know so much?
What sinister and nefarious plot is a foot or a tendril?
Vine don't you stay 'tooned to find out!


How to join or visit....
Just email NouriKemat@aol.com for an invitation.

Feeling like going where no character has gone before? Then join us next week for the continuing Adventures of the USS Eagle!
The USS Eagle sims at the following time:
Thursdays at 9:00 PM Eastern
(8:00 Central, 6:00 Pacific)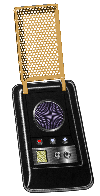 Please click here to contact us
OR
Join our Star Trek Sim!
Visit the main page of our Star Trek sim.