Star Trek Sim/ Star Trek RPG
USS Eagle, NCC 2185


CAPTAIN'S LOGS-NEW PAGE IN PROGRESS!


Title: Eye of Evil, Part Eight
Location: USS Eagle
Setting: Bridge
COMING SOON!!


It will progress the story to the following points: Ensign Valderkev will be treated and released from the make shift Sickbay. A few of the derelicts will be investigated. Everyone gets some good rest and then heads out to a new derelict

We will learn the name of the derelict, part of its history, go to the bridge and get information, and then head to engineering and the stasis room.


PLEASE JUMP TO THE NEXT LOG WHILE THIS ONE IS POSTED. THANK YOU.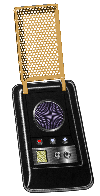 Click here to contact us
OR
Join our Star Trek Sim!

Click below to view: