The Petrescu Family's - Sarmale - Romanian Cabbage Rolls
This Romanian recipe page is in progress!

In the Star Trek sim , the USS Eagle, we play a variety of characters from different cultures and different worlds. A sim is an online role playing game. Ours is played in a chatroom. We type in text and play characters in a story in a setting that takes place during the Star Trek Original Series movie time frame.


Ensign Liliana Petrescu
This is a page for the Assistant Science Officer's family and culture. It is written as if she posted it. She is full blooded Romanian and likes to cook and share the treasures of Romanian cooking with the other crew members.
If you would like information on our Star Trek RPG just email me or check out the rest of this web page with the links below.
"Feel at home no matter how many light years away from it you are!!"

Romanian Cabbage Rolls - Sarmale
from the Petrescu Family





Ingredients

2 large cabbages
1 small cabbage finely sliced in length
5 slices bacon, cut in small pieces
0.25 pound salt pork (smoked preferably) cut into 2 inch slices
2 large onions, finely chopped
2 Tablespoons paprika
1 clove crushed garlic
Salt and pepper *
0 .5 cup water
2 pounds raw sauerkraut, drained of juice (use the juice for filling)
2 Tablespoons caraway seeds
1 pound ground pork
1 pound ground chuck
2 eggs
0.5 cup uncooked rice
0.5 cup ice water
1 clove crushed garlic
3 Tablespoons sauted onions
0.5 cup liquid from sauerkraut
1.5 cups sour cream

*Salt and pepper to taste

Preparation:

1. Remove and discard wilted outer leaves from cabbage.
2. Carefully core the cabbage.
3. Place it in a deep bowl
4. Pour boiling water over cabbage.
5. Let it soak while preparing the filling.

Directions to make filling:

1. Use a very large, heavy pot with a tight cover.
2. Put bacon and salt pork into the pot.
3. Add onions
4. Saute until onions just start to brown.
5. Remove 3 Tbls of the mixture and add to the meat filling.
6. Add paprika to the remaining onions and stir well.
7. Add garlic, salt, pepper and water.
8. Cover
9. Simmer for 15 minutes.
10. Drain sauerkraut, reserving the juice.
11. Rinse the kraut and add the onions, along the caraway seeds.
12. Cover the pot and let the mixture simmer.

Directions to stuff the cabbage leaves and cook:

1. Place the ground pork and ground chuck into a bowl
2. Add the rest of the ingredients, except for the sour cream
3. Mix well with your hands until very well blended and smooth.
4. Remove cabbage from hot water and gently spread it apart.
5. One by one, carefully remove the leaves. Be careful not to tear them.
6. Cut off the thick, heavy part of each leaf (level out).
7. You should have about 12-15 leaves.
8. Place aproxiamately 2 Tablespoons of the meat filling on each leaf.
9. Tuck in the end and roll up carefully.
10. Push stuffed cabbage into the sauerkraut, put the rest of rolls on top.
11. Cover with 1 inch of fine sliced cabbage leaves and add a little more water to cover if necessary.
12.Taste. If you wish a sharper taste, add some sauerkraut juice.
13. Cook for 2 hours. This can be done in a pot on the stove and then in the oven for the last 40 minutes or you can cook it all in the oven in a large pan at 375-400 degrees Fahrenheit.
14. Add salt and pepper if needed.
15. Serve hot with sour cream over the stuffed cabbage or on the side.



Please email me if you try it and let me know how it went. Multsumesc! Bon Apetito!/ Thank you! Enjoy!




Click here to visit the main page of our Star Trek sim based on the Original Series (TOS)
Visit Our Assistant Science Officer's Quarters
Read the Starfleet personnel file for Ensign Petrescu
View Star Trek Sim logs for our ASCI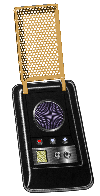 Please click here to contact us
OR
Join our Star Trek RPG!



Our Star Trek Sim's Recipes:

List of Recipes
Romanian Recipes: Romanian Sausages - Mititei

English Recipes
Greek Recipes from our Star Trek Sim Captain's Family
Chinese Recipes from our Star Trek Sim CO's Family
Russian Recipes from our Star Trek Sim CENG's Family