Dr. Isa's Baklava
This page is in progress
In the Star Trek sim , the USS Eagle, we play a variety of characters from different cultures and different worlds. A sim is an online role playing game. Ours is played in a chatroom. We type in text and play characters in a story.

This is a page for Dr. Kamran Shah Isa's family and culture. He is half Syrian and half Afghani. If you would like information on our Star Trek RPG just email me or check out the rest of this web page with the links below.
"Feel at home no matter how many light years away from it you are!!"

Baklava ala Isa - Baklava



Ingredients::

4 cups almonds, walnuts or equal parts almonds and walnuts, coarsely chopped
3/4 cup sugar
1 tablespoon ground cinnamon
1/4 teaspoon ground cloves
1/2 lb clarified unsalted butter, melted
1 lb filo dough, thawed in the refrigerator if frozen

Ingredients for the Lemon Syrup::

2 cups water
2 cups sugar
2 lemon zest strips, each 3 inches long
2 tablespoons fresh lemon juice

Directions:

1.Preheat an oven to 350 degrees Fahrenheit.
2.In a bowl, combine the nuts, sugar, cinnamon and cloves.
2. Lightly brush a 13x9x2-inch baking pan with some of the melted butter. 3. Remove the filo sheets from their package, lay them flat on a work surface and cover with a damp towel or plastic wrap to prevent them from drying out.
4. Lay a filo sheet in the prepared pan and brush it lightly with butter.
5. Working with 1 sheet at a time, top with half of the remaining filo sheets (10-12 sheets), brushing each sheet with butter after it is placed in the pan.
6. Spread the nut mixture evenly over the stacked filo sheets.
7. Then top with the remaining filo sheets, again brushing each sheet lightly with butter, including the top sheet.
8. Cover and refrigerate for about 30 minutes so the butter will set. (This step makes the baklava easier to cut.)
9. Using a sharp knife, cut the baklava all the way through into diamond shapes, forming about 36 pieces in all. Bake until golden, 35-40 minutes.

Directions for the syrup:

1. In a deep saucepan, combine the water, sugar and lemon zest.
2. Bring to a boil, reduce the heat to low and simmer until thickened, about 15 minutes.
3.Remove the lemon zest and discard.
4. Stir in the lemon juice.
5. When the baklava is done, remove it from the oven.
6.Pour the hot syrup evenly over the hot pastry.
7.Let stand for 30 minutes to cool slightly, then recut the diamonds.
8.Serve warm or at room temperature. Store leftover pieces covered at room temperature.



Please email me if you try it and let me know how it went. Shucran!/Thank you!
Enjoy!!





Click here to visit the main page of our Star Trek sim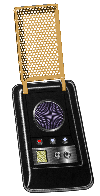 Please click here to contact us
OR
Join our Star Trek RPG!



Our Star Trek Sim's Recipes:

Chinese Recipes
English Recipes
Greek Recipes
Italian Recipes
Norwegian Recipes
Romanian Recipes
Russian Recipes
Syrian Recipes

List of Ethnic Recipes for our Star Trek Sim / Star Trek RPG