Spam! It's Not Just for Supper!
Star Trek Sim: Mail Call



CATEGORY: PRESIDENTIAL SPAM





This is where we answer spam emails...in this case VIP spam

Background: For about three weeks prior to the following email, my character was placed on a list of pastors and began receive pastor spam. Now some how he has gotten on the list of the very special people who pray for the President of the United States, President George W. Bush....This is a real group of people that some how got my email adress and decided my character was a church leader...

In a message dated 12/20/2005 3:40:21 PM Eastern Standard Time, info@presidentialxxxxxxxxxx.xxx writes:

Church is invited to join Presidential Prayer Sunday 2/19/2006



&nbsp..... Dear Church Leader,

Presidential Prayer Sunday, February 19, is a day that could revolutionize your church's prayer ministry. I invite you to enroll your church in this landmark event—I know your prayers will impact our country. I also believe your involvement could strengthen your church's prayer ministry as well! Could there be a better way to observe Presidents Day, February 20?

Individuals within your congregation may feel there is little they can do to influence the course of our country. Presidential Prayer Sunday, February 19, will provide a tangible way for them to unite with millions of believers from all denominations and political affiliations to make a significant difference in America.

Our ministry staff have created a great array of meaningful resources to help you, including videos, sermon and Small Group/Sunday School outlines, scriptural prayer guides and much more to strengthen your church as you grow in prayer.



CONTEST! EMAIL ME WITH NAMES FOR MY CHARACTER'S "CHURCH". THE WINNING TOP TEN FUNNIEST RESPONSES WILL BE POSTED HERE AND ON OUR TOP TEN LIST PAGE. SO FAR WE HAVE.."THE CHURCH OF SCIENCE AND TREKNOLOGY"

Click links below to view other satires, spoofs and humorous items:
My character replies to some spammer who thinks my Star Trek cartoon character is a RL plastic surgeon-Check it out!
First page of spam answered by my character! Corrupt business deals, phoney inheritance scams and loans
Dieting: Can a cartoon character ever be too thin?
MTV contacts us!
Humorous Top Ten lists on a Star Trek theme
Top Ten Things..NOT to say to your Klingon wife - NEW!
101 Uses for a Live (or Dead) Tribble - NEW!

Political Commentaries:
Ann Coulter and Her Posioned Creme Brulle (Creme Brule): Dessert, as a means of assasination, hypocrisy and plagarism (plagiarism)

Main Menu:
Click here to see the listings for our Star Trek Sim Web Page



Email:
To submit "mail", questions or an idea for this page, please contact NouriKemat@aol.com .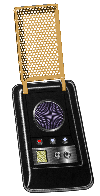 Please click here to contact us
OR
Join our Star Trek Sim: Based on the Original Series (TOS)!