>
This page is in progress!!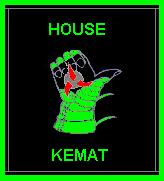 HOUSE OF KEMAT'S
USEFUL WORDS AND PHRASES FOR SIMMING
Battle Phrases
MENU- IN PROGRESS

Hand to Hand

Transporting

Energize-

Transporter Room -



Weapons
weapon - nuH
PERSONAL WEAPONS AND RELATED ITEMS


ENGLISH TO KLINGON


A


agonizer - QUghbej (From the Star Trek: The Original Series)
ammunition - nIch
(small) arms - nuH Hom


D


knife, dagger - taj'

disruptor -


P


phaser pistol - pu'Hich
phaser rifle - pu'beH


S


sword - l'etlh
holster - vatl

OTHER

mind sifter - tuQDaq
poison - tar (Too dishonorable to be used by Klingons of course!)
theragen - Qab (Gas poisonous to Klingons)
SHIP

disruptor -

disruptor banks -

disruptor crew-
phaser - pu'
phaser banks - pu'DaH
phaser crew - pu'beq
shield (n)- yoD
shield(v)- yoD




Cloak
hide, cloak - Su'wI


Military Terms
NOUNS
army - mangahom
base wan'
camp - raQ
drill - qeq
invasion(n)- ypt
military QI'\soldier - mang
soldiers - negh
troops - QaS
victory, triumph - yaj
war - veS
VERBS
charge - yov
contain( an enemy)- Sev
invade(v)- yot
practice, train, prepare - qeq





Command Phrases
WEAPONS USE
Fire(weapons) - baH (weapons)
Ready to launch - ghuS
Status - Dotlh
Target - DoS
OTHER
Activate, Engage(device)- chu'
Let's go - Ha'
Put him on screen - yHotlh
Put on screen - Hotlh
Scan - Hotlh
emergency - chach
accelerate - chung
manuver(engines) - QuD
Pay attention, concentreate(v) - qIm
Ready! Standby! - Su'
listen -'Ij
enter, go in -'el
act, take action - vang
dock - vergh
manuever - tuH
Done! - pItlh
So! Well! - toH
depart - tlheb
board, go aboard - tIj
TRANSPORTER USE
Beam me aboard - Hljol
Activate the transport beam - jol ylchu'
beam(aboard) (V) - jol
transport beam (n)- jol
transport room (n)- joplpa'
transport ionization unit (n) -
-----
transmit data (away form a place)- lab
ACTION VERBS
close, shut - SoQ
cook (v)- vut
duel - Hay'
eat - Sop
leak - hIj
control manually - ruQ
fight - Suv
hit(with hand fist, implemtn)(v)- qIp
be injured - riQ
sabotage - Sorgh
salute - van
stab - Duq
obliterate - Sang
MORE TO WORK ON LATER. SOME WILL BE MOVED TO A NEW PAGE
There, over there there abouts (n) - pa'
transport - lup
gear equipment -luch
have a hangover, be hungover - 'uH
oath - 'Ip
vow, wear - 'Ip
listen - 'Ij
enter, go in - 'el
be beautiful, handsome - 'IH
question, interogate - yu'
hunt - nam
propel - vo'
act, take action - vang
salute - van
be clever, smart, intelligent val
save, rescue(v) - tuD
deceive, trick(v) - toj
EVERYDAY ACTIVITES
drink - tlhutlh
eat - Sop
sleep -
PHRASES AND IMPORTANT WORDS
Heghlu'meH QaQ jajvam - It is a good day to die.
nuqneH - What do you want? (greeting)
sucess- Qapla'
vlta'pu'be - I didn't do it
yes- HIja' or HISIaH
no - ghobe'
===============
beam me aboard=HIjol
activate thr transporter beam- jol ylcju'
surrender or die - bljeghbe'chugh vaj bIHegh
put him on screen- yIHotlh
pay now- DdaH yIDll






Link back to House of Kemat

Link back to the new Klingon sim page - It's in progress

Weapons Images - COMING SOON!



Link back to main tripod page for the USS Eagle sim based on the Star Trek: the original series movie era