Star Trek Sim /Star Trek RPG
USS Eagle, NCC 2185


STARFLEET PERSONNEL FILE -- Ensign Kamran Shah Isa- IN PROGRESS!!
Rank: Ensign (ENS)
Current Assignment: Assistant Medical Officer, USS Eagle NCC 2185
Full Name: Ensign Kamran Shah Isa
Race: Human (Syrian and Afghani)
Sex: Male
Marital Status: Single
Hair Color: Brown
Eye Color: Black
Health: Excellent
Parents: Mansur Khan Isa and Maryam Khalifa
Languages: Arabic, Federation Standard


Starfleet Career Summary:

2293 Graduated Starfleet Academy

2293 Posted to USS Eagle, NCC 2185 as Assistant Medical Officer.



Click below to :

Visit Ensign Isa's quarters- Logs and other fun things
Visit the main page of our Star Trek sim based on the original series (TOS)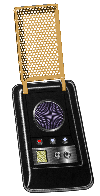 Please click here to contact us
OR
Join our Star Trek Sim!