Star Trek Sim/ Star Trek RPG



The USS Eagle


Engineering Department: Report

USS EAGLE, NCC 2185
ENGINEERING DEPARTMENT
Stardate: 200102.26
RE: Unauthorized Devices
CPT KEMATSOPOULOS:
The surveillance and recording devices that were found in the VIP hallways have been removed as you already know. We have examined them at length now, but still do not have many answers. Some were of Non-Federation technologies. It appears from the type and installation methods used that it is most likely that not all were deployed by the same person.
Some of them were so poorly installed that we had to assume that they were meant to be seen, or that the agent was interrupted and unable to properly conceal them.
We currently have no information available to us regarding Tureth and Galadonese technology and installation methods in our database. We are unable to confirm if one or both parties deployed the devices in the hallways but think it likely. We will continue the examination of the devices for further clues.
Security and Engineering will regularly inspect the ship for more devices, should new ones be installed. There have been no new unauthorized devices found at this time.
Very Respectfully,
Ensign Bell
Ensign Bell, AENG, NPC
LT Mao
LT Mao, ASEC, NPC
View the duty log for which this is an attachment
Visit Main Engineering: Specs for our Oberth ship
Visit the main page of our Star Trek sim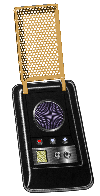 Click here to contact us
OR
Join our Star Trek: TOS Sim!