Star Trek Sim / Star Trek RPG
USS Eagle NCC, 2185

CAPTAIN'S QUARTERS

Title: CAPTAIN'S PERSONAL LOG: STARDATE 200106.30
Location: USS Eagle
Setting: The Captain's Quarters
Captain Nouristao Kematsopoulos is seated at his dining table still shaken by the recent events. He sips his hot tea.
"Computer, replay log," he orders.
"Captain's Personal Log
Stardate: 200106.30
Dr. Sanders has cleared me with a clean bill of health. I am to resume my full duties shortly. However, I still do not feel myself. Something is missing so missing now. Like when the bond between my wife and I was severed with her untimely death.
Now that I have been declared officially and medically returned to my senses, I think if that if Jim asked me again what course of action to do regaining my health, I would still request not to sever the bond.
End log"
"Computer, delete log," the widower ordered.
Computer> Personal log deleted.
Nouri got up again and went to his small kitchen and made another cup of tea.

Visit the main page of our Star Trek Sim based on the Original Series Movies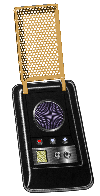 Click here to contact us
OR
Join our Star Trek Sim!

Click below to view:

Next log for our Star Trek sim based on the Original Series Movies

Previous Log

"Captain's Logs" menu

"Ship's Log" menu

Main page for our Star Trek Sim

Visit our other web pages!
Our Star Trek RPG's AOL Web Page
Star Trek RPG: Sim, Sight and Sound Project
See the Star Trek Sim project explained as part of a previous storyline
USS Eagle Star Trek Fun and Games page- JUST BEGUN! RETINAL SCANS,DECLOAKING KLINGON SHIPS,+
Klingon Sim: War Hammer and Sword of Justice
Klingon House: House of Kemat, tuq qimat- An ancient and honorable Klingon House